Frying tofu can be a chore. What I hate most is the splattering of grease popping on your hands, arms, and/or even your face. After many years of frying up the tofu for spring roll / summer roll demonstrations and of course other tofu dishes, I found an easy way for me to fry the tofu that is simple and with less grease splatter. I do not guarantee for a completely no splatter, only less. Well, unless you fry the tofu in a deep fryer with a lid.
In this article, I will share my technique on how to fry tofu, minimizing the splatter.
I often use firm tofu by House Foods. It gave me the best result. You may use any brands as long as they are firm or extra firm. For House Foods brand, there are usually four pieces of tofu. After removing the tofu from the container, I allow them to dry for a few minutes by propping them up vertically on the skinnier side. You can also use paper towel to pat them dry and speed up the process.
I cut each peace into half, yielding eight pieces of tofu. I use about 1/8 cup or about 2 to 3 tablespoons of vegetable oil. In terms of oil, you may choose coconut oil, or other type of oil. I do not like to use corn oil because for some reason, my chin would break out with hard and painful pimples when I eat fried food with corn oil. I am not 100% sure it was created by corn oil but since I reduced my consumption of corn oil, I do not have the break out.
Next I turn on the heat between medium and medium high. The heat will depend on your stove. I have a gas stove so it can get pretty hot quickly. I quickly line the tofu side by side in the frying pan. I do not want the grease to be hot when I place the tofu into the pan.
This prevents the splattering. I set the timer for about 10 to 15 minutes to allow the grease to get hotter. The speed of heating up the oil in the frying depends on how many tofu pieces and how much oil you have frying. The more you have in the pan the slower it is to fry.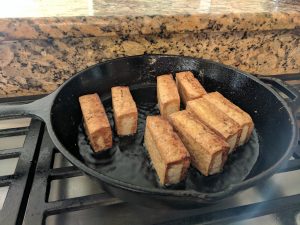 I use an iron skillet so it takes a little while to heat up but once it's heat up, it gets pretty hot. It's a judgement call on your part on how long to set your timer for the tofu.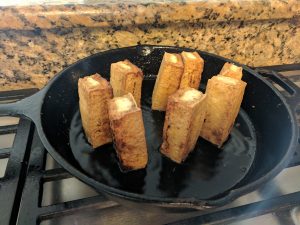 Once one side turns golden, I rotate to the next side. Be careful when you rotate the sides. This time the oil should be much hotter than before. Splattering will happen. I use a pair of chopsticks and a spatula to help flip the tofu to another side.  I set the timer around 2 to 3 minutes or until the next side become golden. I repeat the same process for all sides. If your pan gets pretty hot, you may want to check it every 2 minutes. The bottom and the top of the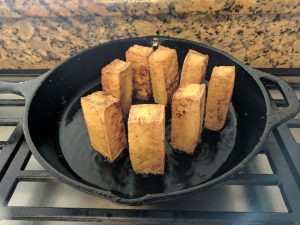 tofu will take 30 to 40 seconds to become golden.
Once all sides of the tofu are golden brown or as golden as you like, remove the tofu from the oil. Place them on a plate lined with two paper towels to help absorb the grease.  Remove the pan from the heat and you are done.
Happy Eating Healthy!