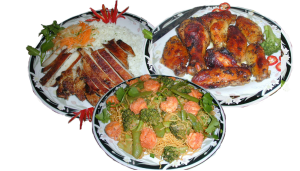 Happy month of May!!! I am creating a brand new game for the month May with a goal in mind. I would like to share my love of Vietnamese food and services with as many local businesses as possible in Maitland, FL. Would you like to participate in my game?
It is a simple pass it on game. Looking for something different, healthy, & yummy to eat for lunch? Why not Vietnamese food? It's different, healthy & yummy!!!
Currently, I deliver meals to two local businesses weekly on Tuesday & Wednesday. I have Monday, Thursday & Friday open for more deliveries.
It would be cool to have a minimum of TEN orders per business to allow free deliver introductory promotion. The food will be delivered directly & conveniently to your business.
How do you play the pass it on game? When you pass on my information and I receive 10 orders from the same business referred by you, your meal will be FREE!!!
Here is my May Menu of what I offer weekly with the current businesses: Click –> Menu <– Please contact me via email if you have further questions – info@phoQueenCooking.com.